Picture designer Joi-Louise cruising down a long, tree-lined road, dressed in one of her show stopping designs, and oozing so much confidence that she leaves a trail of it behind her, like Hansel and Gretel's breadcrumbs. After a short talk with her, you'd find it impossible to deny the fairy tale vibes she gives off. She started from the bottom, went against the grain to follow her passions, interned everywhere – from big houses like Sean Jean, to a family owned bridal shop – and came out on top with her own brand, Joi-Louise the Label. The young designer, curator, entrepreneur, and model is without a doubt becoming a Jersey City icon. Fearless and determined, she is creating her own lane in the fashion industry by committing to her originality.
Here, Joi-Louise talks about her upbringing; playing in her grandmother's hand-me-down designer goodies, analyzing the fashion transformation of Disney princesses, designing her prom dress, and her B2K concert outfits. Louise also gets real about the ethics in the fashion industry, and lays out what's really important when choosing which manufacturer to trust in the production of your brand.
BR.R: Can you give me a bit of your history?
Joi-Louise: I started around October 2017. I had a boutique, before I started Joi the Label, where I was strictly curating. Something in me said 'you love to design, start incorporating that with the pieces that you buy for the store.' I've always been a designer. I've gone to school for design. So, I connected with a manufacturer in Los Angeles to assist me with creating samples and designing made to order pieces.
BR.R: And that benefits you as the business owner because you don't have to pay a lot up front, you're paying basically for what you need. No excess, no waste.
JL: Especially when we started out in the very beginning, it was super helpful because there was no excess, I wasn't stuck with pieces that I couldn't sell. But there were cons. It can be very limited as far as what you can design, what you can make. I'm in the process of transitioning out of that and working with manufacturers that can really get you there; from your own sample, even if it's just a sketch, to a final product.
BR.R: You should definitely talk to the people at Suuchi. That's exactly what they do, and they are based in New Jersey.
JL: Oh yea, I've been in touch over email, and I've had phone calls, it's just about the timing really. But Suuchi is definitely on my radar.
BR.R: Where did you go to school at?
JL: I went to Wood-Tobe Coburn. After I graduated from there, I went to New Jersey City University and I got my bachelor's degree in Business Administration, specializing in marketing.
BR.R: Can you tell me a little about that.
JL: Everyone has a dream to go to FIT or a big name school. My issue was that I knew nothing about sewing other than hemming pants and things like that. I needed to know how to create patterns, I needed to know how to drape. At Wood-Tobe Coburn they teach you everything from sketching, sewing, draping, to taking something from a mood board and putting it into production. I learned about fashion history, tools, textiles; it was amazing, it was the best choice I've ever made.
BR.R: Did you learn a lot about women, and people of color in fashion?
JL: Oh yea. Oh yea.
BR.R: Did that inspire you at all?
JL: To be honest with you, I didn't get inspired by the women in the history of fashion. I got inspired by the women that I learned under when I interned.
BR.R: Like who?
JL: My first internship, when I was still in school, was with the senior designer of wovens at Sean Jean. She was the person who inspired me to start my own brand. When I left Sean Jean, I knew that I'd need to know how to design and how to market. I remember speaking to her before my internship was over and she gave me that real world information. She said, 'Yes, do that (study marketing), even if you don't end up being a designer, you'll need that knowledge if you do want to start a business one day.' That's why interning is so important.
BR.R: I'm noticing that a lot of younger people have little interest in serving, and working under their seniors. Can you talk to that?
JL: Interning is a process. If you start interning at a place that makes backpacks, let's say you get positioned in an area where your job is to focus on zippers. Your first thought is, 'Hmmm, I thought I was going to be designing a whole backpack.' They literally break you down into these micro sections and you work on a small portion.One day I called La Belle Boutique, a bridal salon in Jersey City, and I said, 'I want to intern for you.' I went in, I got an interview, and worked a trial. [Afterwards], they hired me. They were paying me! But I went in with the mentality of working for free because I was so hungry to learn.
BR.R: What was the most difficult hurdle in starting your e-commerce?
JL: Understanding that it's a process. You are going to have peaks and valleys, it's all apart of that journey. You have to fall in love with that process. It doesn't mean that things aren't working, and it doesn't mean that things are always going to be fantastic. It's just this up and down and you have to fall in love with it, and don't so much focus on the end goal. I love when I can take something from my brain and put it on one of my customers. That's the best feeling. As opposed to making up some goal that has no meaning for me, and it's just a goal because someone else says that it should be.
BR.R: I think you're lucky. For a lot of people, it takes a long time for them to decide what it is they want to do. How long have you known that you wanted to work in fashion? It sounds like a long time.
JL: I've always known that I wanted to work in fashion. My grandmother use to work for this wealthy woman, and she would give my grandmother tons of designer stuff – Chanel jewelry, Ferragamo bags – and as a kid I would play in all of this stuff. My Aunt Elaine was super fly back in the day. She would crochet her own bathing suits. I remember playing in her clothes, and her shoes, and her wigs. That was all I wanted to do in between reading my favorite Disney stories. Disney is a different thing. A lot of people see the fairy tale of it, I would always see that fashion transformation as a little girl. Cinderella going from rags, to this crazy blue dress. Don't laugh at me girl, but when I was in high school Project Runway was just coming out. That's So Raven was on T.V. All that fashion! My grandmother bought me a sewing machine when I was seven. I wasn't as talented as other kids, I wasn't making clothes for my dolls but I was trying to. The designer was there. The want to do so was there. This was the time of B2K. My friends and I would design all of our outfits and go to their concerts. It was always there, that special event designer in me.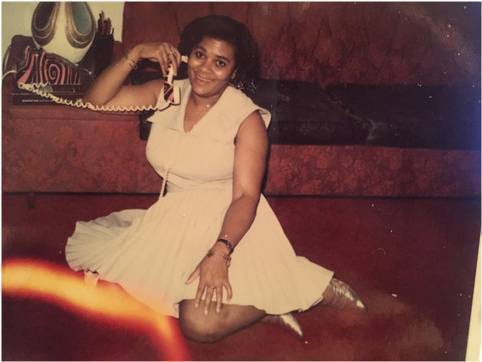 On trying other avenues before committing to fashion design.
JL: My sophomore year in college my grandmother wanted me to work in the medical field, and I did it. For a while I was taking care of the mentally disabled. [At one point] I was really into literature and writing and I thought I wanted to be an English teacher. Something kept pulling me into fashion. While I was already in school, at NJU, I stopped. I told my professor that I wanted to start at fashion school. I told her I was going to come back and finish my bachelor's degree, and she looked at me like, 'Are you serious?' I didn't have the support of my family. My grandmother is super religious. Fashion is the devil kind of thing, don't do it. I said, 'Grandma, I gotta do it. If I don't, I'll regret it.' So, I enrolled at fashion school. Everyday I was there, I was on top of the world. Those were the best years of my life.
BR.R: One thing that's really buzzing, with customers and manufacturers, is eco-friendly brands. How much are you wasting? How much are you not wasting? Data is now looping in consumer concern for the environment. As someone who is directly in-tune and hands on with the fashion industry can you talk towards controlling the waste in the industry?
JL: I'm glad to see that it is taking a turn. It definitely starts with the customer. From a business perspective, it's important to make the customer value what you're selling. If they know that they can get it in every store, if they know that you're mass producing it, it means nothing. They may wear it once, and then it sits in their closet for years until they graduate college, or they move, and I decide to throw it out, or hopefully sell it on Poshmark – which is a great outlet too, because it helps to cut down on the waste – but you have to create that value. A lot of the times people don't care about being ethical, they care about getting a cheap dress because they are going down to Atlantic City with their girls for the weekend. A lot of the time the customer does choose the price over quality, and here we are; the main industry in the world contributing to killing our planet.
BR.R: The footprint is big on environmental health. I think we need to get even more designers to share their point of view about the issue. Let me ask you this. In the age of Instagram how important is being apart of a trend? I remember when I was in elementary school, there were these pair of jeans, I think they were called Zana-Di, and you had to have them. I remember being in T.J Maxx and begging my mother for them.
JL: Yes I absolutely remember. I had to save up and buy my own, my grandmother would not buy them for me.
BR.R: Is that desire to be apart of a trend still present in the age of 'everybody brand yourself on Instagram?'
JL: I think it is. Prime example, the Balenciaga sock shoes. They dropped them, then all of a sudden everybody was knocking them off. Rihanna has her own line of sunglasses, people are going to start knocking them off left and right. I already know because that's the industry that we live in. But Rihanna is backed by LVMH, so she's able to bounce back from something like that. Whereas if you are a smaller designer and you put originality out there, you can't bounce back from people knocking you off. When you are a big house that's known for knocking independent designers off, I won't mention names but we know who, it's very difficult to come back. I have 4,600 followers on my brand page, but they have millions, what type of damage can that do to me? So I think it's important to create a community to showcase your original designs to. One of the designers that I love is Jenn Lee, she is a designer out of Canada. Jenn Lee indirectly took me under her wing on social media and gave me advice. She's always being knocked off left and right. Her shoes are on Go Jane all the time. Go Jane is one of the biggest brands that knocks off shoes.
On being fearless
JL: I'm not afraid to reach out to designers I love on Instagram. I reach out all the time and let them know how much they inspire me, and I ask for advice.
JL: I didn't always used to be the face of my brand. One day I had a dress and I wanted to take pictures in it, and my husband said, 'Okay, let's do it.' Ever since I put on that dress, it was a cheetah printed dress, I got more recognition. I used to be the kind of designer that was behind the scenes. Today is the day where people are not buying products they are buying brands, buying people. So it clicked for me then; when you have that traction and the recognition, people can't knock you off. The originality needs to be you.
On Entrepreneurship
JL: As an entrepreneur you always feel like you should be doing more. It's hard to accept your accomplishments especially when you feel like you're on the low, or you're not moving fast. It's important to remember that it's all apart of the process. It's important to acknowledge your accomplishments.
BR.R: Do you have any advice for up and coming designers on communicating with manufacturers?
JL: You have to make sure that the manufacturer is the right fit for you and your business. Meaning they can listen to the DNA of your brand. They are not going to cut corners because it's an extra route or they don't want to go back and forth with you. You have to find someone who understands that you may be a perfectionist, but it's because you don't want to give anything less to your customer base. It's important to also make sure that you make it easy for them to do their job. You have to be specific. The more detailed you are with your manufacturer the better your product will be. If you are just starting out and you don't have a lot of experience, that's fine because with Google or Youtube, you can do the research. That's where your passion, and drive, and ambition have to come in. Have all of your ingredients together. I think that's the best way to get to a manufacturer. It's their job to put it together, but they can't get in your head and pull out your vision, you have to bring it out.
BR.R: What's next for you?
JL: Jersey City is very much apart of where I am today. I did my first collection at New Jersey City University. At my high school, having fashion design accessible wasn't a thing for me. If I can give back to the kids in my community, that'd be amazing. The goal is to open a showroom. I don't think I'll ever have my own store because customers are online. However, if my customer wants to try something on, they know that they can come to my showroom, and experience the brand offline, touch and feel the pieces. Also, having interns and young people who want to see it. When I was young I was so hungry to see it, I would go as far as Brooklyn for an internship. So, to have it here for kids to see would be dope.
Written By: BR.R